In the spring of 2015, while speaking at a large industry event, I opened my presentation by quoting Louis Pasteur:
"In the fields of observation, chance favors the prepared mind."
Monsieur Pasteur was a 19th century microbiologist, who applied the scientific method to prevent the spread of diseases (e.g., anthrax, rabies, etc.) via vaccination and pasteurization. As you may recall from grade school, the scientific method employs observation and experimentation to ultimately form a theory (i.e., an explanation).
His message has always resonated with me. After all, what is marketing if not a series of experiments (whether by design or not)? The challenge can be drawing actionable conclusions from those experiments.
My presentation was about Red Hat's focus on creating the right data to measure and optimize marketing performance. Essentially, if you create enough of the right data, you can begin to focus on the things that matter and ignore the things that don't.
Unbeknownst to me, Alex Krawchick, the eventual founder and CEO of Klearly, was presenting at the same event. Fortuitously, a mutual friend attended both presentations and introduced us to one another after Alex had founded Klearly.
Alex and I had a lot in common. Most of all, we both recognized marketing was data-rich and information-poor, and independently, we were taking similar approaches to addressing that problem.
Specifically, we wanted to focus marketers on those audiences and actions most likely to positively impact the business (in a meaningful way). And we still do today.
At Red Hat, I was fortunate to work with an amazing team who developed the requisite data infrastructure and analytics capabilities to inform marketing's priorities and quantify its impact. But not every company is the same as Red Hat, and democratizing those capabilities, no matter the size or sophistication of your marketing team, is important.
Good data management and good insights from that data aren't enough, though. We need to go further.
Marketing needs to be empowered to easily take action from those insights so it can confidently, credibly, and knowingly contribute to business growth.
Now, with the power of machine learning, that's possible. Not only does Klearly's machine learning engine stack the odds in your favor by observing what does and doesn't work at different points in time for your business, it also recommends where to focus your attention and what you need to do to make a difference. As importantly, it gives you the power to say "no."
That's why I'm excited to join Klearly: We're enabling marketing teams to become data-driven (without sacrificing their creativity or expertise) and to build a smarter path to growth.
I'm proud to say Red Hat Marketing is already on this path, and it's important to me that others benefit too.
Join us on the smarter path to growth by visiting klearly.com and contacting us to learn more. And, whether you choose to engage us or not, I want to wish you and your loved ones good health and safety during these challenging times.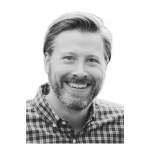 Matt Webbink is the Chief Product Officer and co-founder of Klearly. Matt has spent 20 years building decisions support systems for enterprise B2B marketing teams and joined Klearly to democratize that data-driven decision-making capability for marketing teams of any size. He wants to empower those marketers with the information they need to confidently, credibly, and knowingly contribute to business growth. Matt's imagination was sparked (and continues to be fueled) by Star Wars, Lego, and the arts.