Creating an ideal customer profile, or ICP, is one of those fundamental activities that sets revenue teams apart if built and used well. In fact, according to research completed by Tom Scearce (TOPO/Gartner), companies that spend the time defining ICPs for their teams:
Identify opportunities for faster sales cycles
Uncover higher conversion rates
Support greater average annual contract value (ACV) and lifetime value (LTV).
Obviously, the results are enticing, so where do teams go wrong?
When considering what information most people have access to, we define ICPs with firmographic attributes, such as geography, industry, revenue, size, and technographic attributes, such as hardware and software prospects and customers use. We might even address demographics on the contact such as job title, qualifications, department, which adds greater depth.
Yet the sources of this data vary in instilling confidence. Third party data enhancement is a popular route but as companies are likely also selling this data to your competitors, it hardly gives your team an edge. Meanwhile, when organizations have a strong data foundation, first party data can support both new acquisition and retention efforts.
As recommended by Tom Scearce's report (TOPO/Gartner), it's common to consider both quantitative and qualitative data. Yes, revenue and size can be coupled with account tiering or lead scoring. While listed as optional at the time, it's more pressing than ever to consider predictive analytics while prioritizing your efforts.
For one, predictive data can provide lookalike companies your team can target that might be more likely to retain, convert, or upsell. By gathering data from multiple sources including your CRM, MAP, and product usage and engagement tools, it's possible to create predictions to help prioritize work.
Similarly, ICPs defined by predictive analytics help teams gain an understanding about the broader buying committee. While traditional ICPs might simply measure the number of contacts involved or score leads based on titles, predictive analytics can target engaging people in roles that can champion your solution and promote long term use. By considering the types of people involved in current customer engagement or past opportunities, revenue teams can seek to engage others within an organization with additional context and understanding of the impact.
Finally, there are other measures that can help your team focus efforts. For example, Klearly uses Winfluence to determine where a team can make the highest impact, taking back the ability to say no to activities that might cost a lot of time, effort, and resources for a better chance.
Ultimately, defining your ICP is a tool that can do a lot to inform and center your teams, create shared target lists, and plan engagement to heighten impact with key accounts. Looking at the process of creating ICPs in a new way that activates your data with predictions gives you a competitive advantage.
By breaking out of the loop of diagnostic and basic reporting, your team is empowered to move their eyes from dashboards that are a snapshot of the past to look ahead. Planning then drives the team forward because not only do they know why their actions matter, but they also can have clear expectations of potential outcomes.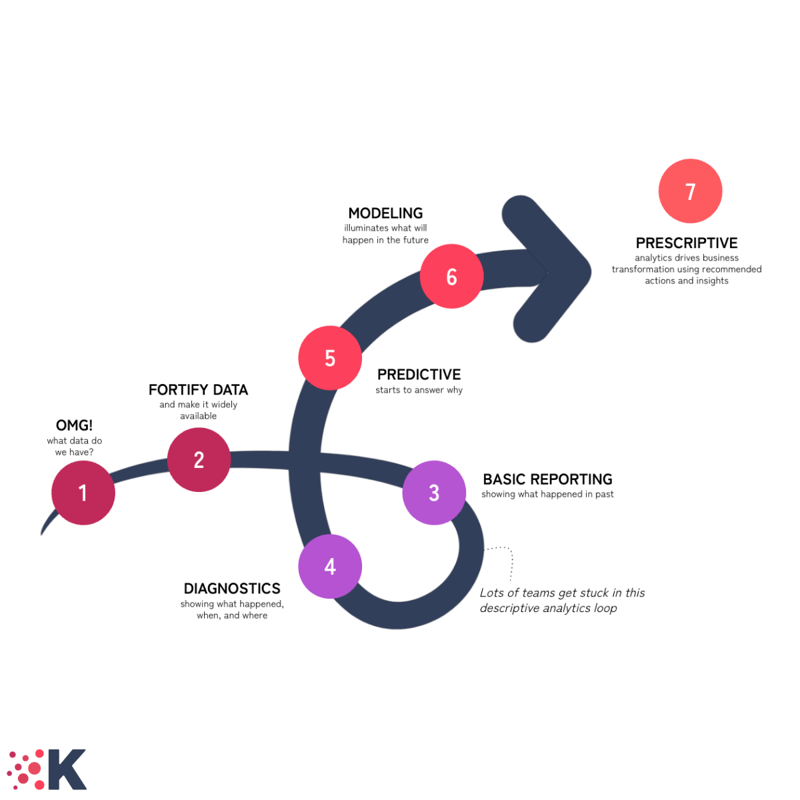 Are you interested in learning more about breaking out of the loop of descriptive analytics? Speak to a member of our team.