This post is part of the B2B Retention Handbook series. To explore more challenges and solutions, check out the series here.
Customers may receive conflicting messages or even false promises from Sales, Marketing, Product, and Customer Success teams without proper coordination and shared data across all of your apps and teams.
With different challenges and motivations in their tasks, it's not uncommon for multiple internal teams to be reaching out to the same customers. Without a shared view of what's happening, it can feel like needing a flight traffic controller to make sure you know what's going on and what messages are getting out. The downside of not having this common view of all the touchpoints is that it can be hard to ensure the best, right conversations are being had to expand the share of wallet with a customer and to ultimately prevent churn.

Unfortunately, you can still miss opportunities to catch churn if you're looking at the wrong goals. With predictive analytics and these additional solutions, you're more likely to support your customers from the beginning with coordinated efforts.
Outline
Reasons
Your customers have enough on their plate learning how to use your product to achieve their goals. The last thing they need is mixed messaging or confusing requests from your Sales, Marketing, Product, and Customer Success teams.
Customers expect your Customer Support and Success teams to know who and where they are and how they are using your product. If your people don't know the context of a question or issue, they can't apply the most effective solutions.
If your customer communications are not relevant or up-to-date that shows a lack of customer intelligence, or even a lack of caring about customers, their specific use cases, and their needs.
If the answers you provide to their questions seem automated and generic that can also lead to frustration and churn.
Solutions
Bonus: Is churn predictable? Can we prevent it before it's too late?
There are certain things we all would agree are clear warnings of imminent churn. Our customer ghosts us repeatedly when we reach out. Our customer champion leaves the company, and all activity drops off. But are there more subtle signs we can watch for that will help us deduce and prevent future churn? If we're focused on vanity metrics and arbitrary goals, we can expect issues in communication for our people, process, technology, and data.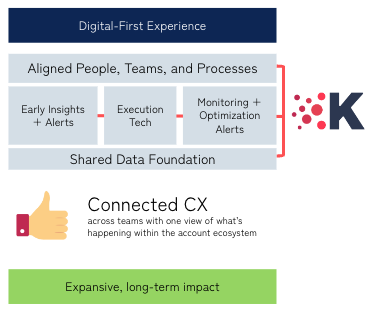 Aligning people, teams, and processes by creating a shared data foundation is at the heart of what Klearly provides. From there, Klearly layers on early insights and alerts to help spot potential issues before they happen and then provides ongoing, proactive monitoring and optimization alerts to stay in front of future issues. Klearly's predictive analytics is designed to make sense of the available customer data and identify accounts that are at risk of churn so that you can take remedial action and create more expansive, long-term revenue impact for your business. By connecting, unifying, and analyzing customer data, you can gain the insights you need to provide a great customer experience before it's too late.